The Red Cannons: Evan Boechler, Braden Boechler, Landon Boechler  & Jen Perry
Canadian recording artists "The Red Cannons" broke onto the national music scene, with two singles, "Underneath the Floorboards," a track inspired by The Telltale Heart by Edgar Allan Poe and "Sheepdog", which garnered rotation on numerous radio stations across Canada and built their reputation on the catchy melodies and mainstream style of their blues-rock influenced, hook laden songs. The band supported their commercial radio exposure with multiple festival performances and shared the stage with the likes of: The Glorious Sons, One Bad Son, The Tea Party, Chilliwack, Platinum Blonde, Sarah Smith, and many more.
The debut EP titled " Underneath The Floorboards" is just the beginning for the group that features three brothers. Dual lead vocalists' Braden and Evan with a triple layer of sibling harmonies that includes third brother Landon, that creates a rare element of synchronicity. "The Red Cannons" have become a rising force in the local music scene and across Canada since its inception in early 2012. The band catapulted into the spotlight with a feature in Classic Rock Magazine in the United Kingdom and were nominated for Group of the Year and Rock Recording of the Year at the 2014 and 2015 Edmonton Music Awards.
This dedicated group of prolific writers releases EP "Always Something" in 2017 and the single reached the top 100 in North America college radio as well as airplay across Canada. The band says, "We are all about building momentum, embracing our fan base and relentlessly performing. The best is yet to come for The Red Cannons, who are working with a team of respected industry professionals to help the group reach the level of success that their hard work, determination, dedication, skill and energy, deserve.

June 27
TBA
Local Summer Festival
August 21
Wabamun Summer Fest
Wabamun Lake, AB
August 29
On the Rocks
Edmonton, AB
Lookin' to chat or book the Cannons for a gig? Drop us a line and we'll get back to you as soon as we can.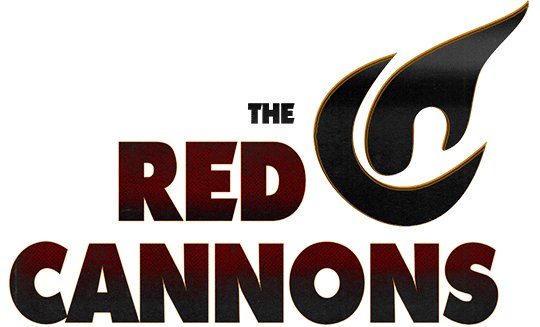 The Red Cannons, a dependable area band that has a hell of a shot at a hit single in Underneath The Floorboards

Mike Ross

Gig City
When Evan, Jen, Braden, and Landon picked up the torch and Ignited The Red Cannons they got my attention. When The Red Cannons sent me "Underneath The Floorboards" I became a fan. I got goosebumps from the beginning of the tune and could NOT get the chorus out of my head. The Red Cannons are on the attack and I see great things around the corner for this emerging

Greg Stafford

Stafford Entertainment
Great rock sound with a knack for catchy hooks and dare I say, Infectious live show. Loves me some 'Cannons'

Don Helm

Morning Show Host at 75.7 The Eagle FM in Hinton, AB
Underneath The Floorboards does what every good song should, crawls underneath your eardrum, nestles in, and has you singing the chorus in your head long after you last heard it

Peter Michaels

Program Director at 106.7 FM Red Deer
Floorboards is a fun, hard-hitting, bluesy tune that demonstrates why The Red Cannons are a shining example of kick-ass Albertan rock!

Cameron Skip

Rock 977 Grande Prairie, AB
Catchy Modern rock track with a great bass and a cool story

Steve Cool

96.7 FM The Rig in Whitecourt, AB
The Red Cannons have a very unique sound. Their single made it onThe Beat playlist this summer, and we have kept in on the air. And the phones continue to ring when it spins!

Lochlin Cross

100.3 FM The Bear FM in Edmonton, AB
There has not been a performance from The Red Cannons that I have not enjoyed. From the little tent at rock fest , to the Halloween bash at my house. They continue to Rock the house. Looking forward to more from the band in the future and continued success.

Warren Jones

Water Works Renovations